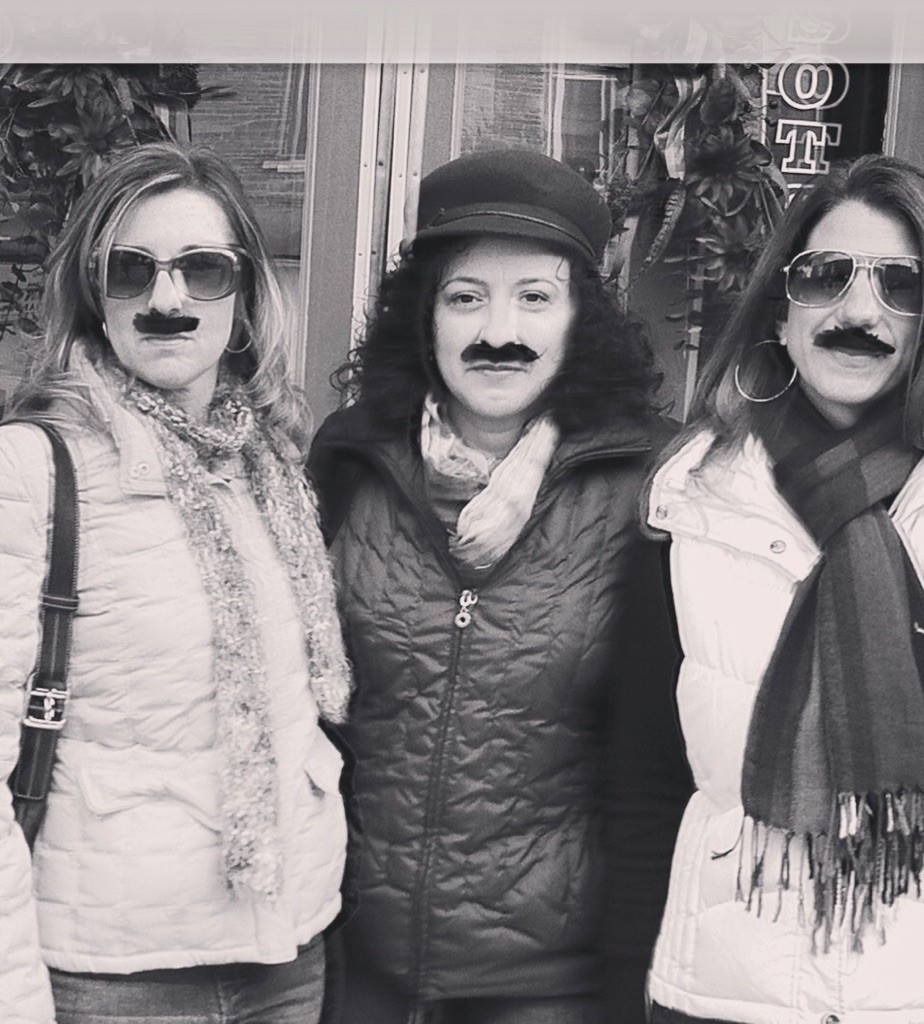 The Mustache Girls, as pictured above, are true Pink Unicorns (according to my definition).  As you will read, their spontaneous fun leads to adventure that turns out even better than they could have imagined. They show us all what it means to be an adult that knows how to proudly embrace his/her inner silly.  To some, they are known as Laura, Christina, and Jennifer, but to those in Galena, Illinois, they are known as The Mustache Girls.  So without further ado, here is my interview with The Mustache Girls!
1) Who came up with the Mustache Girls, how, why, and where were you when it happened? Did I forget any "wh" questions in there?
C:  We were in Galena Illinois, Halloween weekend. The stache turned out to be our low budget costume.
L:  We were immediately welcomed the minute we drove into Galena.  People were pointing to us and laughing.
J
:  Laura introduced the package of mustaches to us in the car… as she said, our low budg costume.  We were an immediate hit; people were pointing.  Our first encounter with "the power of the stache" was while looking for a parking spot.  We saw a family pointing and staring at us as they passed.  I said outloud, "What are they looking at???"  Laura started laughing at me because I forgot that I was driving my car wearing the stache!  Fun from the first moments in Galena! It only got better from that moment on!
2) Is there a lead mustache girl? If so, what has earned her that title?
L:  There is no lead mustache girl, as each girl brings a different personality to the group.
Xina becomes WILD and out of control with groupies – (pressing her body against the window at a bar full of  customers so they could enjoy a special window dance).  Jennifer turns into a musician – she learned to play a wash board instrument with less than 4 drinks, while dancing and entertaining the crowd.  I like to be mysterious and silly at the same time.
 J:  I agree, there is no lead mustache girl, if anything it makes us one. Yes, the stache brings out personalities depending on the mustache. An alter ego, if you will.
3) What is the best thing that happened to you while being a mustache girl? What is the worst?
L: The BEST part of being a stache girl…..
1. The crowd yelling "There are the MUSTACHE GIRLS!!!!" during a parade.
2.  Bringing smiles and laughter to random people in Galena.
3.  Special Perks:  Lots of conversations and extra drinks bought by fun people to idolize the stache girls.
4. Having others wanting to borrow or wear your stache.
5.  Jenny – looking like a celebrity from the TV show.  Can't remember the name of the show… Reno ????? Help me Jennifer.
J:  Reno 911. Also a Tom Seleck-esqe look.  VERY HOT!
L: 6.  Jennifer also shared her stache and got the opportunity to wear a man's……. can't think of the name of it……?
J: Beaver skin hat…. it was quite an honor!  I loved that word got around Galena… it was like "did you see the mustache girls?" then people would see us and say, "look, it's the mustache girls."  So fun!  Also, people asking to take thier pictures with us!  I just loved that we were bringing joy and silliness to people's day and inspiring them to be silly too!
L:  The worst parts of being a stache girl:  1. Sweaty stache that falls off – total BUZZ KILL.
J:  Agreed.  BUT… half falling off stach brought tons of laughter within our group!!!
L:  2. Being followed at times when you need a minute to gather your stache.
3.  Being groped by a man during a dance; him grabbing your butt because he thinks stache girls are fun.
4.   Jealous girls who are with BOYS who are swarming the Stache girls and giving us dirty looks.
J:  Forgetting you have the stache and itching it.
4) What are the requirements to being a mustache girl? Do you take new members? Is there an application process and if so, what?
C:  One requirement…be proud/confident with the stache. All girls welcomed.
J:  Enjoy the stache. Don't be embarrassed by the stache. No application process, but the stache can be revoked if you do not respect "the power of the stache" and the fun it brings.
5) What makes an excellent mustache girl? What are the characteristics/traits of the quintessential mustache girl? What type of person would not belong?
C:  Be proud with whatever stache you have.
L:  If you are not fun, then most likely you will not enjoy the silliness of wearing a stache.  However, it might open your eyes to new opportunities and experiences that might enhance your semi-boring life.
J:  Go with it!  … Whatever happens while wearing the stache… go with the flow… see where the stache takes you and most importantly, have fun!  It's all about the fun!
6) If you had to compare yourself to a superhero, cartoon character, or celebrity(other than yourself), who would it be and why?
L:  Invincible – Wearing the stache giving you courage to be silly
J:  Wonder Woman.  When Wonder Woman is buttoned up, everyday, Diana Prince and then she puts on her wonder woman garb and her powers are unleashed.. it's like putting on the stache.. no more buttoned up, everyday girls.. we are spreading the power of spontaneity, silliness, fun, smiles, and laughter… and letting out those qualities in ourselves!
7)  What is the message the Mustache Girls would like to spread to the world? What are you for/against?
C:  No matter how you look, we are all special in our own way/stache.
J:  Go with it… whatever happens while wearing the stache… go with the flow… see where the stache takes you.  We stand for fun and spontaneity; we are against nay-sayers and negativity.
8) Anything else I should know?
L:  Don't OVER think the Stache and don't over wear the stache. I think if you save it for a special occasion it will provide memories and laughter to your group.
 

J:
 Find YOUR mustache.  It doesn't have to be a mustache, it can be anything! Whatever is silly, fun and makes you laugh and others laugh is what matters!  Have fun with it… the more laughter, the more fun, the more memories!
N:  Thank you ladies, or should I say, Mustache Girls.  I couldn't have summed it up any better myself.  
Do The Mustache Girls inspire you to have a wacky-fun girl's/guy's weekend of your own?