I have always loved Pink Dresses, to the point where it used to get me in trouble.  It has been reported that I threw tantrums on multiple occasions as a young child because my mom wouldn't buy me the pink dress I wanted (and once for Donald Duck napkins…..not worth it).  The tantrums included  a) kicking and screaming while lying on the floor of a department store and/or b) hiding in the middle of a clothing rack. Perhaps it was my bad behavior that didn't get me the dress, or perhaps it was because the dress looked something like this: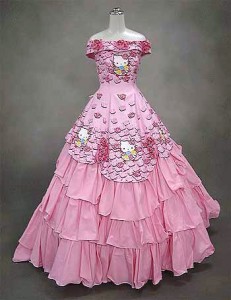 Whichever the case, I somehow never learned my lesson and always felt a pink dress was worth the consequences of the tantrum (immediate removal from the store, very dissatisfied parent, and sometimes a spanking).  The more I reflect on it, the more I understand why I was willing to accept the consequences.  I am hard-wired (or media influenced) to love pink, to love dresses, and to love the combination of the two.
As a teenager, I may have moved away from the tantrum, but my love for Pink and dresses was only reinforced by such pink dress Pink Unicorn moments as the one in the John Hughes era film Pretty in Pink.  Check-out Molly Ringwald's (Andie) iconic prom dress below from that film: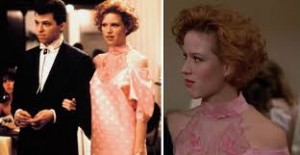 In my 20's, when I could be semi-reasoned with, my mom said "When you graduate and get a job, you can buy yourself  whatever (insert name of clothing item) you want."  Subtext: you can now buy yourself all the pink dresses you want.  As a side note, let me give my parents some credit by mentioning they very lovingly paid for my wedding dress, which I am sure cost more than the sum total of all the pink dresses I wanted growing up.
Nowadays, I have become a little more open-minded and have been willing to expand my love to all color dresses.  In my opinion, dresses are the great equalizer for women.  I am hard pressed to find a pair of jeans that flatter my shape, but give me the right dress, and it is a Pink Unicorn moment! I think most women can find a dress that flatters their shape and that they fell amazing wearing.  Not to mention wearing a dress can mean getting dressed in 30 seconds or less; one and done.  I just ordered the dress below from Ann Taylor.  Yay for Midi length!

I am thinking about ordering this one from the Nordstrom Half-Yearly sale: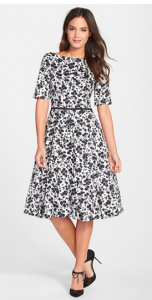 And this one is for my mom; she told me she loves it: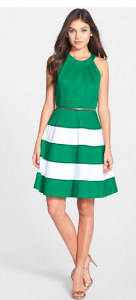 Do you love dresses and/or pink dresses? What is your favorite dress style and color?