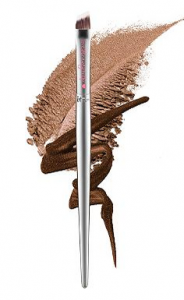 The Angled Liner Brow Brush No217(IT Brushes for Ulta) is my Pink Unicorn of the Month! This brush works even better than I thought it would, is affordable, and has many uses.  Pink Unicorn!! I should mention that I wear make-up about twice a week, and am a total beginner when it comes to application. I was a hard sell on the concept of needing to have the right or good brushes.  Now I am sold.
My favorite use is turning my night-wear purple eyeshadow into day-wear purple eyeliner (by wetting the brush).  The No217 Angled Liner Brush has a weighted handle which is ideal for people that don't have a steady hand. It is equivalent to the specialized paint brush used for painting edges (the edger?) in a room. Both types of brushes have left me impressed by the precision I am able to achieve, and that is saying a lot for someone who struggles in this department.  This Angled Liner Brush was so easy to use and the resulting makeup application exceeded my expectations.  100%  Satisfaction. Oh and I don't work for Ulta or receive anything for writing this. I just want to share a Pink Unicorn when I find one!
Which are your favorite eye makeup brushes? Do you love the Angled Liner brush as much as I do?