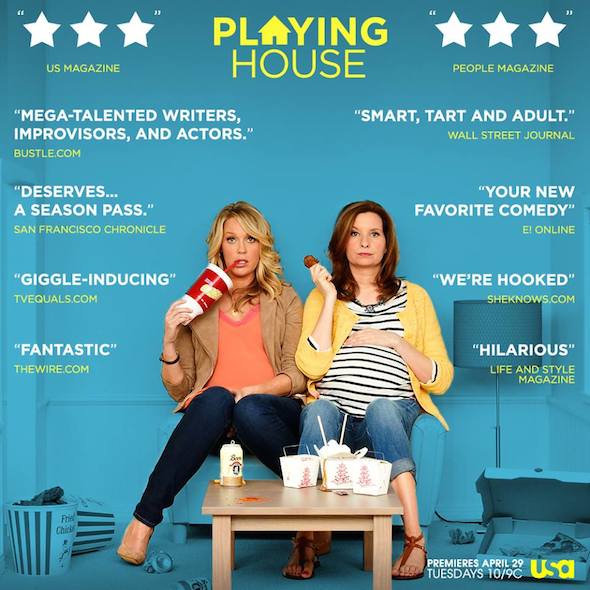 Playing House is a delightful comedy about female best friends.  Best Friends + moments of absurd humor….why and HOW did it take me so long to hear about this show‽ (an ‽ interrobang, a word I have only recently learned, perfectly fits my sentiment of ?!?! emphatic questioning).  Ok…back to Playing House. Season 1 originally aired nearly a year ago on the USA Network.  You can catch Season 1 now on platforms such as Hulu, Amazon, and the USA Network website. Season 2 will reportedly air during the second half of 2015. The writers/leads are real life best friends, and when you watch the show, that won't surprise you.  It took a few months in to find, but this show certainly helped out my new year's resolution to find more silly, fun, and laughter in my life.
Playing House has everything I need and want in a show. It is easy breezy to watch, well-written, and humorously depicts the best of female friendship.  The writers and actors have effectively paired endearing with witty, leaving out an overarching tone of snark, which I appreciate.
After you watch the show, check-out their interactive website, where you can take a which character are you quiz.  No shock, I turned out to be "Mark", the responsible one.
What do you think of Playing House and which character did you turn out to be?